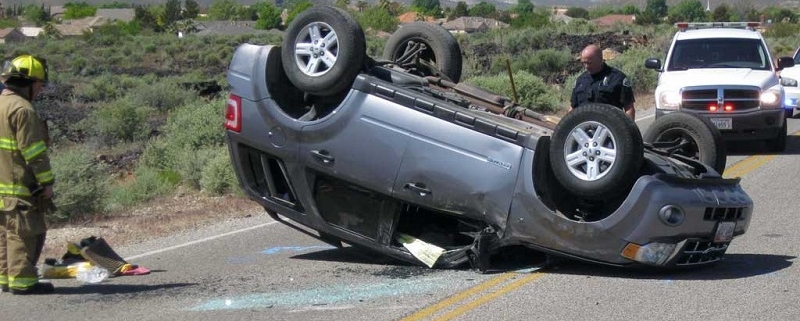 There are over six million auto accidents in the United States every year. Out of all of these vehicular crashes, rollover accidents are the most deadly. A rollover is defined by any car accident in which a vehicle turns over onto its roof or side. These accidents may be single or multi-vehicle crashes and are caused by a wide range of factors–not just driver error, as is commonly assumed.
If you have been injured in a rollover accident, you may be suffering both physically and financially as a result. Whether it's a loss of income from the inability to work, crushing medical expenses, a loss of mobility, or chronic pain, you need to understand your rights as a victim and how a qualified rollover accident attorney can help you.
Causes of rollover accidents
It's a common misconception that rollover accidents are solely a result of driver error. While driver distraction and other mistakes do cause a percentage of rollovers, there are many other causes for these deadly crashes that even the best drivers couldn't prevent.
Certain passenger vehicles like SUVs are prone to rollovers due to their body design and weight distribution. Other rollovers are caused by "tripping," which happens when a tire hits something like loose dirt or gravel, causing the vehicle to "trip" forward or sideways. Many other factors contribute to rollovers, including dangerous road conditions, defective tires or faulty vehicle design. In the Denver and Aurora Colorado areas, many of these factors are in play, thanks to hazardous weather conditions and a greater presence of SUVs on the roadways to handle winter roads. No matter the cause, rollover accidents devastate their victims.
Common injuries caused by rollover accidents
Injuries from rollover accidents are wide-ranging and often catastrophic. Because of the violent nature of these crashes, multiple injuries to the head, neck, upper and lower limbs, abdomen and thorax are often seen after a rollover. The long-term effects of these injuries can impact speech, memory, vision, internal organs, nerves and more, leaving the victim unable to work or complete normal activities. If you've experienced injury from a rollover accident, you might feel that there is no hope of reclaiming your life. Thankfully, there are steps you can take to seek help and start recovering what you've lost.
Seek help from a personal injury attorney
The first step in reclaiming a sense of normalcy after an accident is to contact an experienced Denver rollover accident attorney. These professionals know that rollover accidents may be the result of another driver, the city responsible for maintaining roads, or even a vehicle manufacturer. An experienced personal injury attorney will help determine who is really at fault in the accident. They will also file the right claim forms with the right offices to help recover lost money from medical bills, missed work, and the effects of an ongoing injury.
Personal injury lawsuits and proceedings can be very confusing and complex. Coupled with strict statutes of limitations on claims and reporting, victims may not be able to represent themselves in a rollover accident claim. A personal injury lawyer is trained to identify the negligence of other parties and respond quickly while there is still time to pursue legal action and receive compensation.
If you live in the Denver or Aurora, Colorado area and have suffered an injury as the result of a devastating rollover accident– you've suffered long enough. Contact our qualified rollover accident attorneys at AGG Law Firm today and regain control of your life. For a free consultation call (720) 487-1050 today!
https://www.agglawfirm.com/wp-content/uploads/2019/01/rollover-accident.jpg
400
800
AggAdmin
http://agglawfirm.wpengine.com/wp-content/uploads/2019/10/agg-1-300x141.png
AggAdmin
2019-01-21 21:48:15
2019-01-21 21:48:15
Injured in a Rollover Accident? Denver Car Accident Lawyers Can Help